LIVING RICE PADDY EXHIBIT TO GROW ON WORLD TRADE CENTER CAMPUS IN HEART OF LOWER MANHATTAN
On June 6, 2019 The Port Authority and LUCKYRICE announced the installation of the most recent community-oriented public activation on the World Trade Center campus – a living, growing Rice Paddy. The unique installation was unveiled today on the Oculus Plaza and will run through the Harvest Moon Festival in late September, reaching more than 250,000 global tourists, workers and local residents daily.
The 16-acre World Trade Center campus, in addition to being the home of the 9/11 National Memorial and Museum, today supports more than 35,000 office workers in three completed towers and attracts millions of international visitors who pass through the Oculus and the surrounding pedestrian plazas that have opened in the past year.
LUCKYRICE, a lifestyle brand founded by acclaimed entrepreneur and media personality Danielle Chang a decade ago in New York, is widely credited with bringing Asian culture to the forefront of global discussions through the lens of food. In a tribute to the iconic World Trade Center campus, LUCKYRICE selected the Rice Paddy, which is symbolic for remembrance and renewal for this installation.
"The Port Authority has invested billions of dollars rebuilding this sacred site and takes its continuing stewardship of the nearly completed campus very seriously," said Port Authority Chairman Kevin O'Toole. "We welcome unique displays and activities to this campus such as LUCKYRICE that will provide the downtown community and those who work here with a family-friendly environment that will be a dynamic destination for tourists from around the world."
"This unique rice paddy installation celebrates a food staple embedded in cultures around the globe," said Port Authority Executive Director Rick Cotton. "This display is perfectly suited to the World Trade Center which, both by its name and its heritage, seeks to celebrate and support global diversity. We are pleased to partner with LUCKYRICE to showcase this display, which continues our ongoing initiatives to transform the campus into a hub of vibrant community activities and create a year-round engaging and appealing customer experience."
"RICE PADDIES ARE A COMMON SIGHT IN ASIA, YET FOREIGN TO MANY NEW YORKERS. OUR PUBLIC ART INSTALLATION FOLLOWS SMALL RICE SEEDLINGS AS THEY GO THROUGH THE LIFE-GIVING TRANSFORMATION THAT FEEDS MUCH OF THE PLANET, AND THAT SYMBOLIZES LUCK, FORTUNE, FERTILITY AND GLOBAL CONNECTIONS THROUGH CULTURE AND FOOD,"
– Danielle Chang, founder and CEO of LUCKYRICE and host of LUCKY CHOW.
Rice Paddies carry universal resonance by elevating a humble grain of rice into a bold and visually arresting statement that celebrates Asian heritages and the significance of the world's most widely consumed food source grown in the heart of New York City. Rice feeds two-thirds of the world and forms the foundation for Asian culinary culture.
Produced by a team of local and multicultural New Yorkers and minority, women-owned businesses, the Rice Paddy was specifically designed to foster community engagement. Port Authority employees, local charitable organizations, schools and local residents are invited to take part in the growing and harvesting of the rice. School tours, culinary demonstrations, and multicultural public art talks will all be a part of the public programming offered to the community during the rice growing phase from June through late September, culminating in the LUCKYRICE Rice Harvest Feast on September 28 where dozens of chefs will gather to create dishes that are an homage to rice. The three-tiered Rice Paddy, crafted from sustainable materials and eco-friendly practices, will offer ample seating to the public and help further efforts to elicit connection
The Rice Paddy installation is the most recent community activation to be staged on the World Trade Center as part of the Port Authority's long-term strategy to provide diverse, exciting cultural, educational and entertaining programming on the site. Following the opening of Tower 3 a year ago this month, the Port Authority has taken an aggressive approach to opening long-shuttered streets to pedestrian traffic and filling the site with a continuous flow of special events and programming to engage the community, as well as those who visit or work at the site.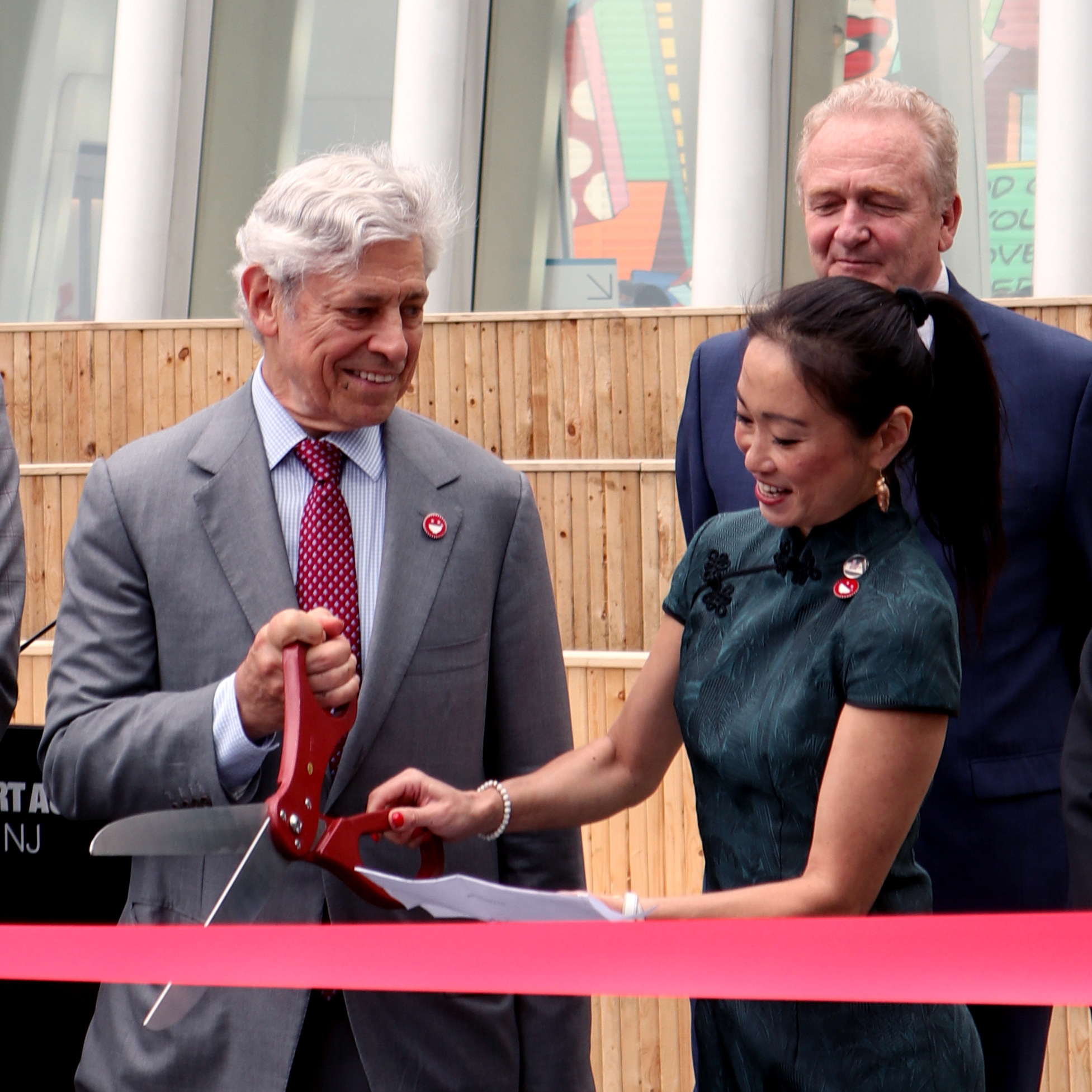 Founded in 1921, the Port Authority of New York and New Jersey builds, operates, and maintains many of the most important transportation and trade infrastructure assets in the country. The agency's network of aviation, ground, rail, and seaport facilities is among the busiest in the country, supports more than 550,000 regional jobs, and generates more than $23 billion in annual wages and $80 billion in annual economic activity. The Port Authority also owns and manages the 16-acre World Trade Center site, where the 1,776-foot-tall One World Trade Center is now the tallest skyscraper in the Western Hemisphere. The Port Authority receives no tax revenue from either the State of New York or New Jersey or from the City of New York. The agency raises the necessary funds for the improvement, construction or acquisition of its facilities primarily on its own credit. For more information, please visit http://www.panynj.gov.
FARMER AND RICE ADVISOR
The Randall's Island Farm offers a 40,000-square-foot retreat of edible plants, chickens, and trees managed by Nick Storrs. At the south end of the farm lies something extraordinary: four 24-foot-long beds serving as rice paddies, a common commodity not usually found growing in New York City. What started as a just-for-fun project with one Japanese variety of rice, they're now exploring rice varieties from all over the globe.
RICE PADDY ARCHITECTS
Comprised of a dynamic and talented group of architects and designers we have built a team with varied and complementary skill sets. Together we approach each project with the conviction that there are unique and sophisticated solutions to all design problems regardless of size, scale or budget. Our commitment to the synthesis of both modern design and sustainable building techniques brings a distinct perspective to our work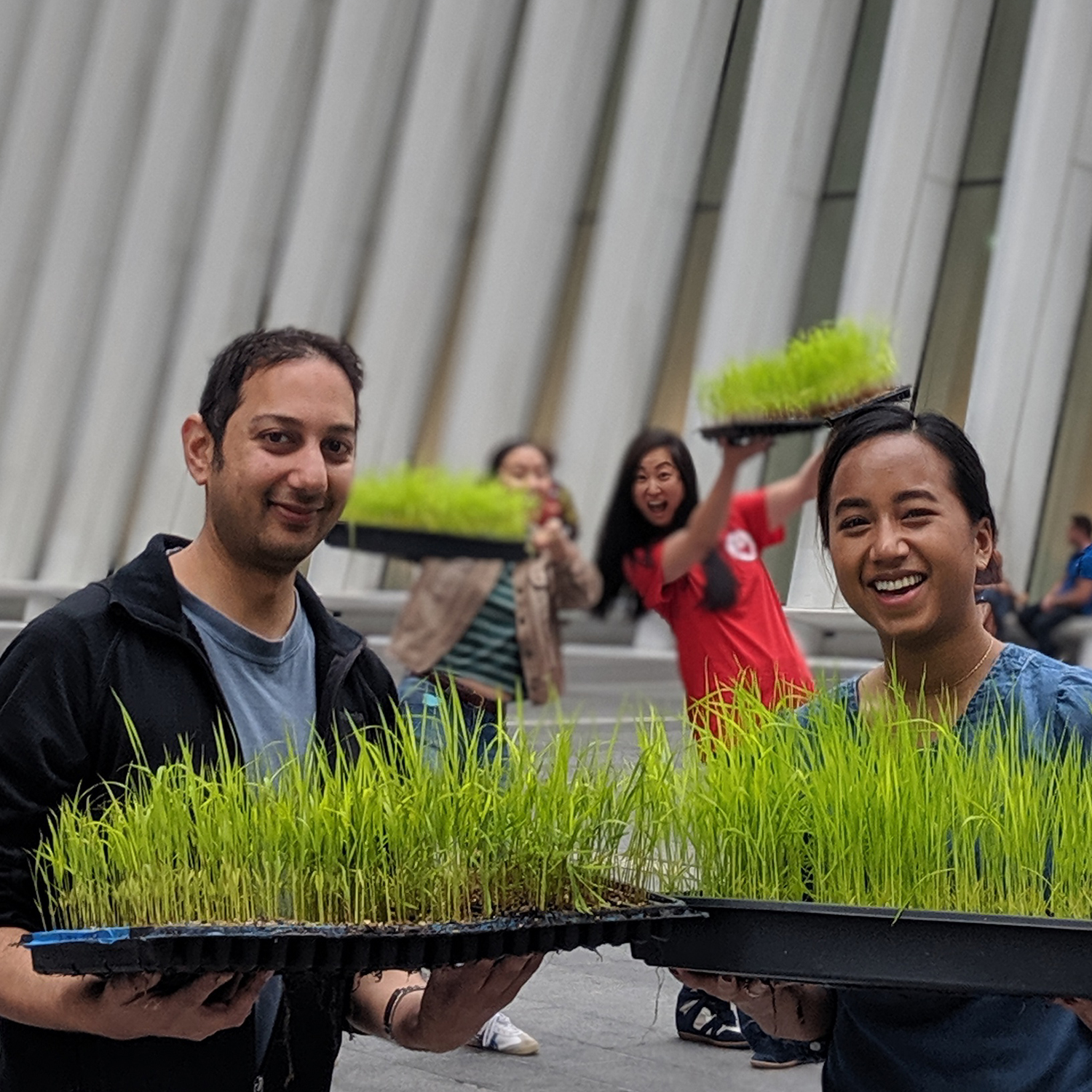 PRODUCTION / INSTALLATION TEAM
Production Glue is a live event company that doesn't just create environments – they protect them too. From materials and logistics to energy and waste management, they help set the standard for sustainable practices in the event industry. Production Glue sets out to innovate every aspect of business – from management and strategy to creativity and technology.
ARTIST
Warren King is an American artist currently working and living in New York City. Much of his work explores connections to the people and traditions in his cultural past, specifically to the Chinese village where his ancestors lived for many generations. As a descendent of immigrants, and as a migrant himself, King is particularly interested in the effects of geographic dislocation on personal identity.
SOURCING AND FABRICATING THE RICE PADDY INSTALLATION
Digifabshop is a highly agile digital fabrication company specializing in custom architectural interiors. In addition to architectural woodwork, their expertise includes metal work, solid surfaces, stone, upholstery, and a variety of finishing technologies and services.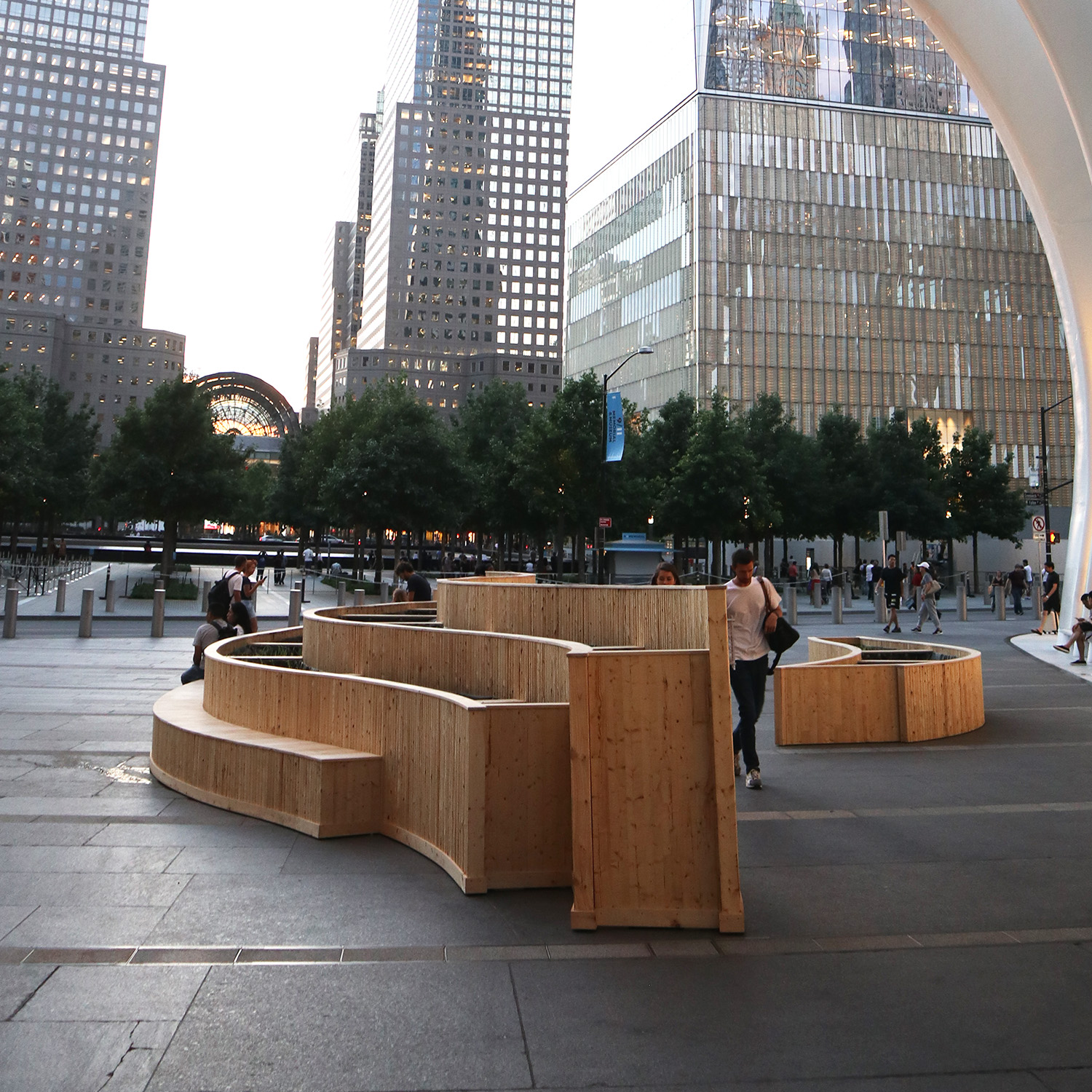 ENGINEERS
Fast + Epp is an internationally recognized structural engineering firm with a team that prioritizes creativity and simplicity. Their proud history spans over three decades, with successfully completed work of all types and scales. The Fast + Epp team enjoys working with a high premium on structural expression; all challenges new and old are welcome.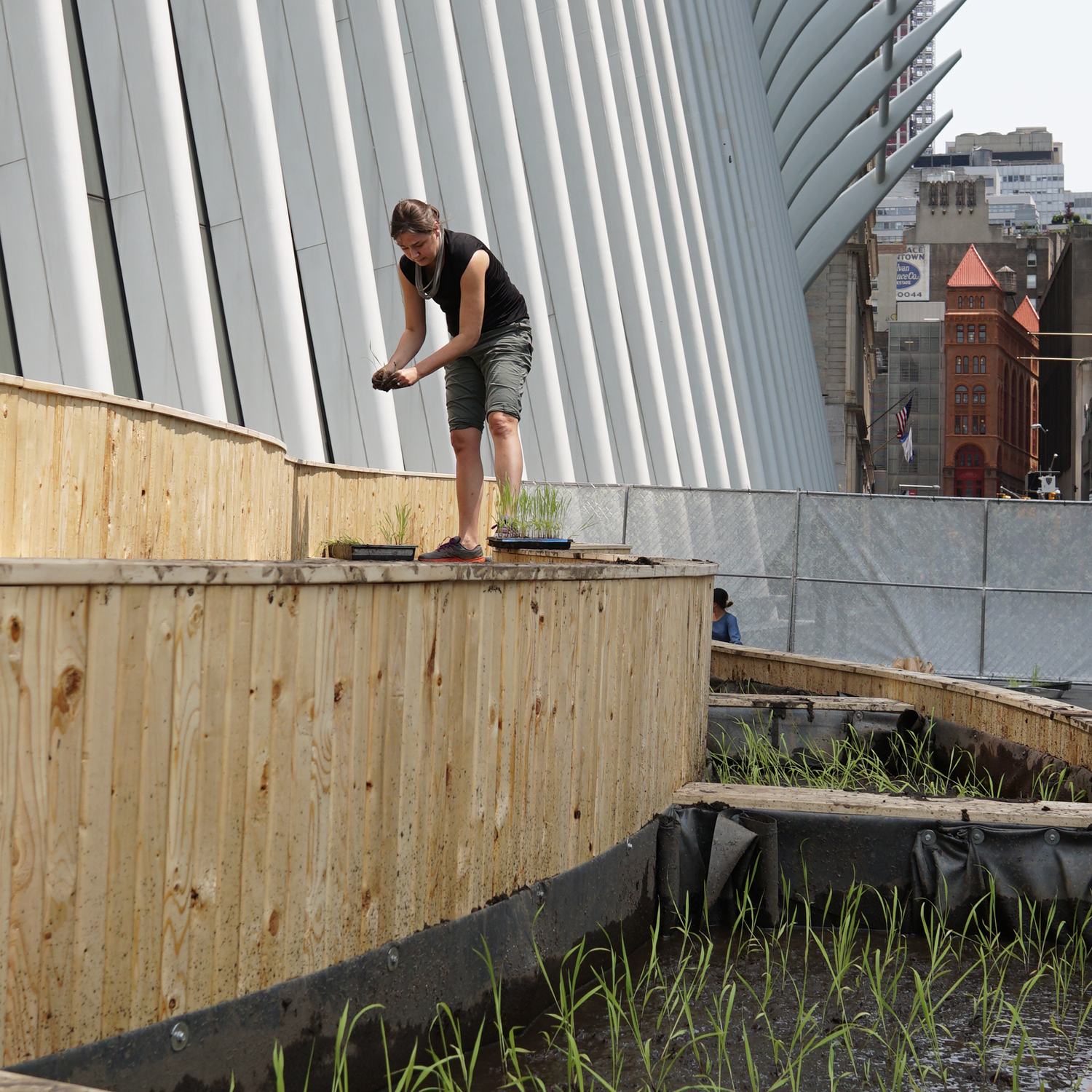 LIAISON TO PUBLIC SCHOOLS FOR GREENHOUSE PLANTING AND MATERIAL DONATION POST PROJECT
NY Sun Works is a non-profit organization that builds innovative science labs in urban schools. Through our Greenhouse Project Initiative we use hydroponic farming technology to educate students and teachers about the science of sustainability. They envision a generation of environmental innovators, empowered to create solutions to global resource challenges. In addition, NY Sun Works is an EPA, NAAEE and HBSCNY award-winning organization, and maintains a platinum rated status on Guidestar and a Top Rated status on Great Non Profits.
STUDENTS SEEDING RICE PLANTS AS PART OF THEIR GREENHOUSE CLASSROOM PROGRAM
Founded as an independent alternative high school in 1972, City-As-School's primary objective is to offer students a multitude of Learning Experiences that encompass the depth and breadth of New York City's businesses or resources. City-As-School offers a rigorous program that sets high expectations for both students and professionals in the community who work with them. All student learning experiences are designed to provide background information and skill acquisition through the attainment of practical knowledge.