Numbingly Delicious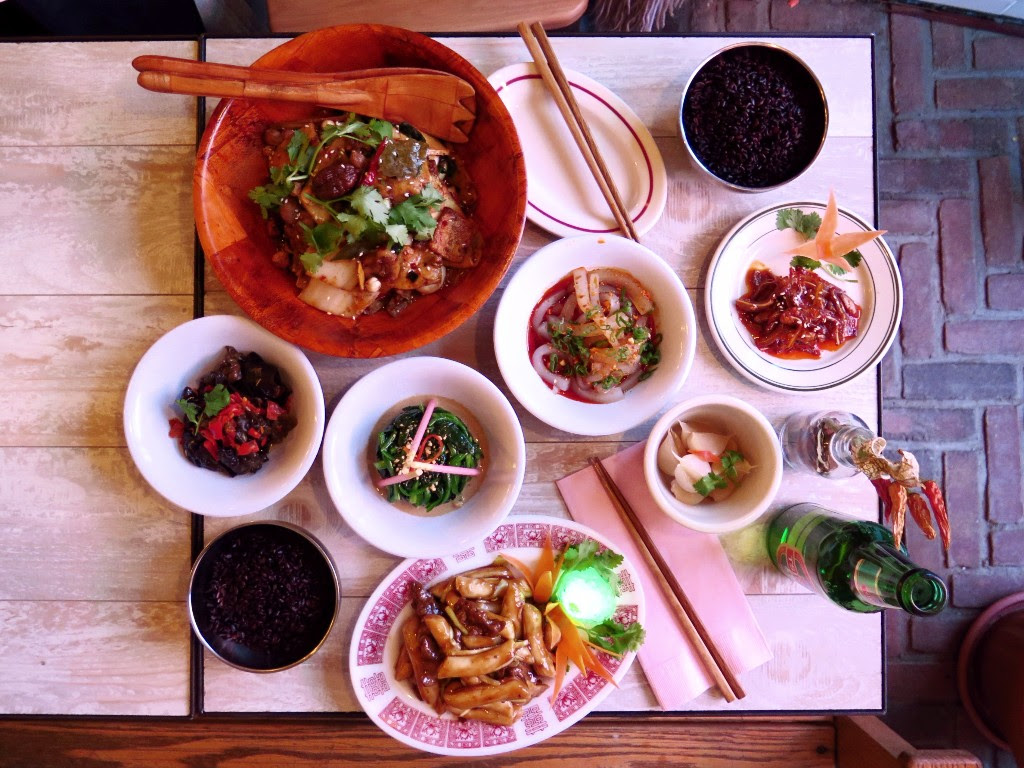 There's nothing more comforting on a chilly winter night than some sizzling hot pot. Chinese hot pot, customarily stewed with thinly sliced meats, vegetables and stock, gets a brothless showcase at Málà Project, a cozy eatery located in the East Village. Named after the Chinese characters ma and la, which literally translate to "numbing and spicy", the restaurant's star dish is a variation on dry hot pot, a stir-fry-like spread built with a choice of over fifty add-ins: meats extend from beef tendon to pig arteries, squid balls can be paired with frog, and vegetables include more obscure produce like wakame and chayote. Have a glass of water ready in-hand - you're in for a spicy ride:
Pig ear?? Don't be intimidated and embrace your adventurous side by ordering this terrifying, yet oddly delicious, appetizer. Covered in spicy sauce that is both fiery and savory, the pig's ear has the perfect level of crunch and chewiness in its texture. Who knew that ears could be so delicious?
---
Wood Ear with Pickled Pepper
Wood ear? What type of wood has ears? Called mu'er in Chinese, wood ear is a tree-jellyfish that is often enjoyed in Chinese cuisine, known for its nutritional value and health benefits. This dish, reminiscent of a salad, is simple yet packed with tons of flavors and texture. From the crunchy, almost gelatinous wood ear, to the dish's tangy flavor and spicy kick, all of your taste buds are sure to be excited.
---
Lunar New Year Special: Rice Cakes
A special on the menu in celebration of the Lunar New Year, this dish, made with rice cakes, tender cuts of beef, and leeks, will be your lucky charm for the new year. Rice cakes are traditionally considered to be a "lucky" food as rice as an ingredient symbolizes prosperity and wealth. The addition of leeks provides a refreshing element to a potentially carb-heavy and meat-heavy dish. Don't be surprised if you end up reaching over the bowl of rice sitting right in front of you and across the table for mouthfuls of this addicting plate.
---
Málà Dry Pot
Beef Tenderloin, Sliced Lamb, Fish Cake, Lotus Root, Bok Choy, Chinese Cabbage, Firm Tofu
Where to even begin with this pot of amazing-ness! Dry hot pot may seem foreign to those who are only familiar with its soup counterpart, but these spicy bowls of goodness will not disappoint. From the typical beef tenderloin to the more adventurous beef tongue, add in everything and anything your adventurous appetites desire. Although the fun part of cooking the ingredients yourself is taken away, the fact that you don't have to wait to dive right into the dish is definitely an added perk. Make sure to be on the lookout for whole peppers...unless you literally want your taste buds to go numb.
---
Málà Project 122 1st Avenue New York, NY 10009