An Insider's Look: LUCKYRICE LA Slurpfest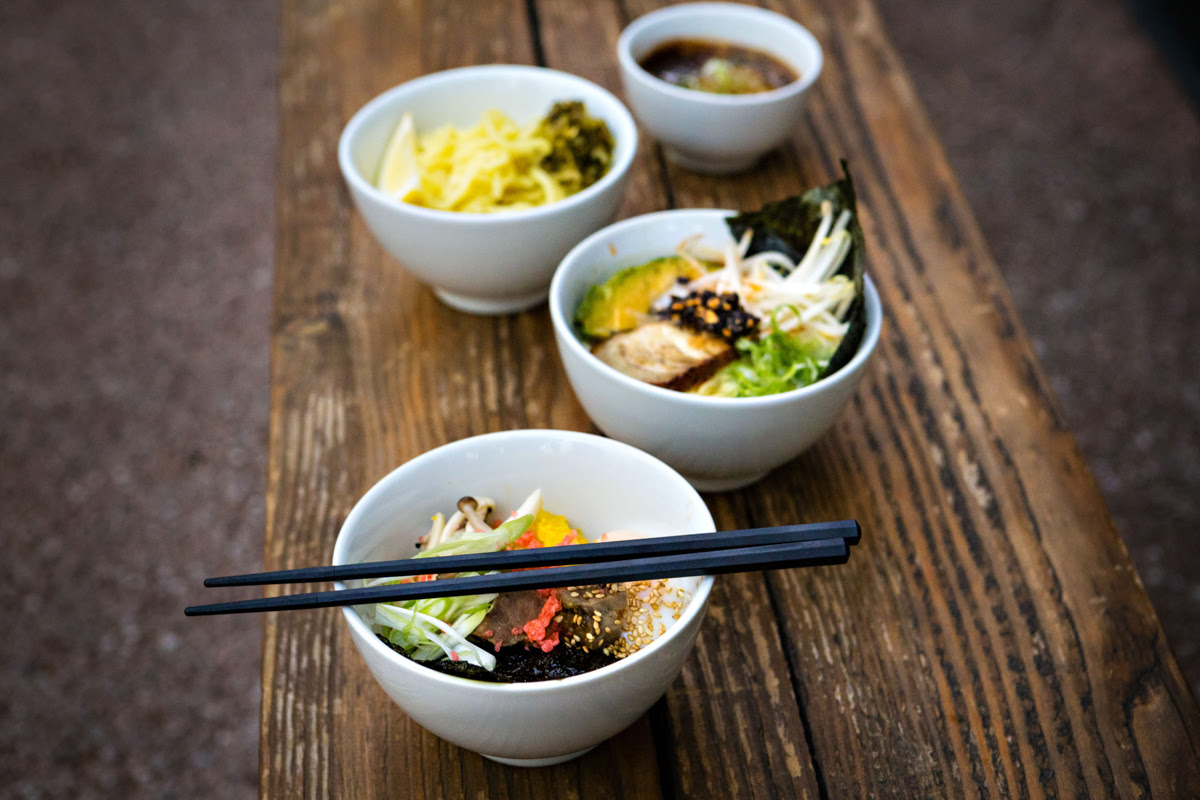 Our popular ramen tasting will return to DTLA for its second installment with four ramen shops across Los Angeles. This traditional Japanese dish has evolved throughout the U.S. and each of our participants will showcase their unique spin on slurp-worthy noodles. Here's an insider's look into this year's participants:
LUCKYRICE: Broth, tare, noodles, or toppings - which do you think is the most important element for a great bowl of ramen?
Ramen Hood: They are all very important elements to a bowl of ramen. Ramen is a sum of all its parts. Certainly if you have one part that is not as good as the others, it will show through in the final product, but you really need all the parts to work together in order to create a great bowl of ramen.
Ramen N.A.O: In order to make a great tasting bowl of ramen, every component needs to compliment each other. From Menma to Tare, each aspect must be done well…and made with love!
The Ramen Joint: Tare is the most important element. Anyone can boil a pot of bones, get their hands on great, fresh noodles (like Sun Noodles) and prep toppings. But tare is the last and final step where all the labor and hard work to complete each element is determined.
Shin Ramen: Broth is the most important element. We spend two days making our signature pork broth.  Although everything else is essential, without the broth tasting right, the rest will not matter.
---
LUCKYRICE: Best to slurp with or without (lots of) sound?
Ramen Hood: Best to slurp with lots of sound. Ramen should be eaten quickly while it's hot.
Ramen N.A.O: Slurp LOUD, Slurp HARD, let the person next to you know that slurping loud is the best way to eat ramen.
The Ramen Joint: Best to slurp with, of course. It forces more air in with each slurp, that way you can taste a deeper flavor. Same as you would when someone is tasting wine.
Shin Ramen: Slurp slurp slurp!! You want to eat ramen when it is HOT and slurping will help cool it down at the same time. A good slurp will also keep lots of broth hanging on the noodles it loves so much.
---
LUCKYRICE: Eating ramen noodles with a fork vs. chopsticks - does it make a difference?
Ramen Hood: Definitely better to eat with chopsticks. Easier to get a good mix of everything with each bite.
Ramen N.A.O: Using chopsticks is absolutely the best way to eat ramen. We do have chopstick-impaired patrons but it's not a big deal. The most important thing is that they smile at the end of slurping down a bowl of ramen.
The Ramen Joint: It does make a difference. If someone is using a fork, they will most likely twirl it as if it was pasta and eat lumps of noodles where the broth has been squeezed out. Using chopsticks, the noodles hang and the broth and flavor will have a better chance to grip and coat each noodle.
Shin Ramen: Yes. A fork does not offer the same slurping experience. It is not pasta and forks tend to wind up the noodle which does not need to be done with slurping.
---
LUCKYRICE: Why ramen?
Ramen Hood: I love ramen because it's a comfort food for me. I grew up eating ramen and my grandmother used to make me a bowl most days when I came home from school when I was little. My association with ramen is definitely one that dates back a very long time and that's why I love it so much.
Ramen N.A.O: Ramen offers something for everyone and I mean that in the most literal sense. From the Chef working long hours checking his Brix meter and tasting the soup to ensure each batch is perfect to the couple sitting at the bar slurping away at their bowl, ramen is the complete package and a culinary roller coaster that crosses boarders and oceans.
The Ramen Joint: In Korea, the broth/soup game is strong and, with Chef's Korean background, he wanted to incorporate those techniques and ingredients to ramen. The outcome is a less rich broth that is more balanced and flavorful.
Shin Ramen: Ramen is magical. A good broth will leave you craving it for days and the hardest part is when you get to the bottom of the bowl.